Chapramari Forest Bungalow
Chapramari Forest Bungalow, situated amidst the dense forest of Sal tree is a beautiful abode for Nature lover. It is situated at a distance of 80km from Siliguri. Furthermore, Chapramari Forest Bungalow is one of the favored government based forest accommodation in Dooars.
It is a two storied building which is famous for offering the panoramic view of Chapramari Wildlife Sanctuary. Moreover it is one of the oldest Sanctuaries in India.
In addition, apart from enjoying the serene ambiance visitors can see a waterhole from the balcony of this forest bungalow.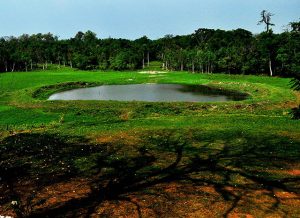 Near the waterhole forest official has maintained a salt pit to attract animals. Early morning and evening are ideal time for spotting some exotic birds like peacock. In fact if visitors are lucky they might even spot bison and majestic rhino quenching their thirst in the waterhole.
Therefore, Chapramari Forest Bungalow of Dooars with its pictorial location and tranquil ambiance has become the perfect place to spend some quality time amidst the pristine nature.
Chapramari Forest Bungalow Tariff
There are 4 rooms in Chapramari Forest Bungalow. Each room can accommodate a maximum of 3 people. The room tariff is as follow:
| | |
| --- | --- |
| PAX | Tariff |
| 2 PAX | Rs 3000 |
| 3 PAX | Rs 3500 |
This means visitors need to pay Rs 3000 per night for 2 persons and Rs 3500 per night for 3 persons.
Room Tariff includes both food and accommodation.
For reservation in Chapramari Forest Bungalow and details about tour packages for Dooars you can contact North Bengal Tourism.