RISHIKHOLA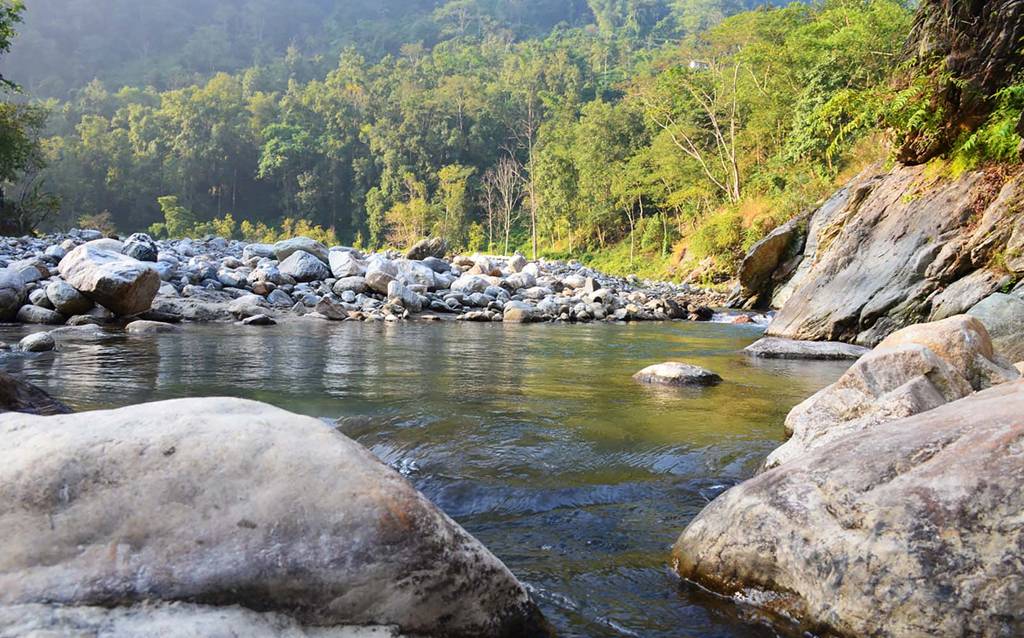 Ever dreamt of a holiday filled with a bit of laziness, getting away from regular cell calls, busy meeting schedules, nature all around with deep lush green forest everywhere, snowy mountains behind the green carpeted forests, consistent chirps of innumerable birds which you have never heard, slightly noisy hilly river on one side and you are busy exploring fishing Trout's. If yes then Rishikhola is the place for you. Reshikhola (or Rishi Khola alias Rishikhola) is a small valley situated on the bank of the river Reshi at an altitude of 2,000ft in the Kalimpong sub division of Darjeeling district. Reshikhola got its name from river Reshi.
Rishikhola can be reached from Kalimpong via Rhenak. The distance would be around 37 K.M. and it's a nice journey of more than one and half (1.1/2) hrs. Rishi village situated on 101 K.M. away from Siliguri town and it's a more than 3.1/2 hrs of journey through Sevoke, Kalijhora, Rambi, Kalimpong, Lava and Pedong. Distance from Gangtok town is only 90 K.M from Rishi. Rishikhola is a perfect stopover for tourists intending to visit 'The Silk Route' as it is a nice picnic and camping ground for tourists to have fun and chill out on the banks of the river rishi. It is also an idyllic spot for romancing the moonlight with a light barbecue and bonfire. Tourists can also indulge in luxury of bathing in the crystal clear river water and to cast the net for a light barbecue. Tourists can also get a feel of staying in pitched tents and test their wilderness streak. For trekker and adventure seeker Reshi offers innumerable opportunities for them to rock climbing and short treks.
A place called paradise for bird lovers, Rishikhola provides ideal atmosphere to resident and migratory birds in the Himalayan region. With a wonderful natural surroundings of lush green huge trees, numerous Himalayan and sub Himalayan bird species like the Crimson Sunbird, the famous Himalayan Bulbul, Green Magpie, Scarlet Minivet, the beautiful Racket tailed Drongo, the mighty Crested Serpent Eagle, the Great Barbet, the Blue throated Barbet, the Oriental White Eye, Verditer Flycatcher, Fire Tailed Sunbird, the magnificent Red Billed Leothrix, Red tailed Minla and many others will surely going to charm you. April, May is the known to be the best time for birding in Rishikhola.
Listening to the soothing sound of the flowing river while enjoying fresh cool breeze Rishikhola is the idea for an ideal place to enjoy the wonders of nature while sitting on the river bank or enjoying the luxury of bathing and fishing in the clear Rishikhola. It's a place to rejuvenate yourself or spend the quality time with your loved ones amidst the nature.
Places to visit in Darjeeling